Even though almost every state requires its motorists to have auto insurance, many people drive without it. So if you're a car owner, you should be concerned about having an accident with an uninsured motorist. Fortunately, your own personal auto policy already has you covered. The uninsured motorist (UM) coverage section is designed to cover you for injuries sustained in an auto accident that's caused by another driver who is either completely uninsured or has less than the minimum insurance required by state law. UM coverage also protects you when you're the victim of a hit-and-run accident where the owner or driver of the other vehicle can't be identified.
What's covered
If you're in an accident with an uninsured motorist, your policy's collision coverage will pay for the repair bills to your own car. However, you'll have to pay your deductible. In some states, you can purchase uninsured motorist property damage coverage, which usually carries a lower deductible than collision coverage and thus can minimize your out-of-pocket expenses if you're involved in an accident with an at-fault uninsured motorist.
Generally, your insurance company will pay bodily injury claims associated with a UM accident if:
The injured individuals making the claims are considered insured parties under your policy; such insured parties include you, your spouse, family members who live with you, and any guests who were in the car at the time of the accident
The insured parties are seeking compensatory damages for bodily injury (reimbursement for medical expenses and lost wages)
The owner or operator of the uninsured vehicle caused the accident through negligence
The injured parties are, in the opinion of the insurer, legally entitled to recover compensatory damages from the negligent uninsured party
An "uninsured motor vehicle" is a land motor vehicle or trailer of any type for which:
No bodily injury liability bond or policy applies at the time of the accident
There is bodily injury coverage, but in an amount less than that required by state law
There is bodily injury coverage at the time of the accident, but the insurance company either denies coverage or becomes insolvent
No operator or owner can be identified after a hit-and-run accident
To ensure that there's no confusion (and perhaps to limit fraudulent claims), some vehicles are specifically excluded from classification as uninsured motor vehicles. They are vehicles:
Owned by you or a family member and uninsured
Owned or operated by a self-insurer, except one who is or becomes insolvent
Owned by the government
Operated on rails or crawler treads, like railroad cars or bulldozers
Designed for off-road use and being used off-road at the time of the accident
Being used as a residence or premises, such as a trailer parked at a campsite
What's excluded from coverage
Your insurer may exclude certain losses from your UM coverage. Most significantly, the agreement covers only compensatory damages (reimbursement for medical bills and lost wages); it doesn't cover damages for pain and suffering or punitive damages. If you have an accident involving an uninsured driver while you're in your own uninsured vehicle (one that's not listed on your insurance policy), your policy won't give you any UM protection. If you're using your car as a taxi or as a delivery van, transporting people or goods for a fee, you (and your passengers) aren't covered in the event of an accident with an uninsured motorist. This exclusion does not apply to car pool arrangements in which expenses are shared. If you sustain injuries that would be covered under a workers' compensation claim, a disability insurance claim, or any other policy claim, you'll get no UM coverage, as it would be duplicative. Finally, you'll get no UM compensation if you or your lawyer settles the bodily injury claim without the consent of your insurance company.
The Declarations Page of your policy will spell out the limits of your UM coverage. The limit is usually the maximum that the insurance company will pay for any one accident, regardless of how many insureds are involved, how many claims are made, or how many vehicles were involved in the accident.
When there's disagreement over coverage
If you and your insurer can't agree on if or how much you're entitled to recover under the UM section of your policy, the policy's arbitration clause allows you to use outside arbitrators to settle your dispute. Under a typical arbitration clause, each party (you and the insurer) selects an arbitrator; the two arbitrators then select a third. Each party pays the expenses of the arbitrator he or she has chosen, and the expenses of the third arbitrator are shared equally.
Arbitration is limited to deciding whether the insured is legally entitled to recover damages, and the amount of those damages. Under many clauses, the decision is binding only if the arbitrators decide that you're entitled to an amount equal to or less than the minimum amount of insurance you're required to have by your state. If the arbitrators decide that you're entitled to damages that exceed your state's minimum insurance requirement, the decision isn't binding, and either party may demand a trial within 60 days of the arbitrators' decision.
What about underinsured motorist coverage?
If vehicles insured under policies with less than the state's minimum liability limits are considered uninsured, then what are underinsured vehicles? Whether a vehicle is considered underinsured depends on what you decided to buy for this part of your own policy. An underinsured motor vehicle is defined as one covered by bodily injury liability insurance limits that are:
Equal to or higher than the state minimums
Less than the limit of another person's underinsured motorist coverage
The way this coverage works depends on state law. In some states, for example, if you carry underinsured motorist coverage with a limit of $100,000 and are not at fault in an accident with a person who has a bodily injury limit of $50,000, your own policy may cover you for any damages you suffer over $50,000 up to $100,000. (In this case, if your underinsured motorist limit were $25,000, you wouldn't be able to collect under it, because your coverage would be less than that of the other person.) In other states, it doesn't matter what your limits are for underinsured motorist coverage relative to the coverage of the other party. As long as you have any coverage, it will be available to you if your damages exceed the other party's liability limits.
This material was prepared by Broadridge Investor Communication Solutions, Inc., and does not necessarily represent the views of The Retirement Group or FSC Financial Corp. This information should not be construed as investment advice. Neither the named Representatives nor Broker/Dealer gives tax or legal advice. All information is believed to be from reliable sources; however, we make no representation as to its completeness or accuracy. The publisher is not engaged in rendering legal, accounting or other professional services. If other expert assistance is needed, the reader is advised to engage the services of a competent professional. Please consult your Financial Advisor for further information or call 800-900-5867.

The Retirement Group is not affiliated with nor endorsed by fidelity.com, netbenefits.fidelity.com, hewitt.com, resources.hewitt.com, access.att.com, ING Retirement, AT&T, Qwest, Chevron, Hughes, Northrop Grumman, Raytheon, ExxonMobil, Glaxosmithkline, Merck, Pfizer, Verizon, Bank of America, Alcatel-Lucent or by your employer. We are an independent financial advisory group that specializes in transition planning and lump sum distribution. Please call our office at 800-900-5867 if you have additional questions or need help in the retirement planning process.

The Retirement Group is a Registered Investment Advisor not affiliated with FSC Securities and may be reached at www.theretirementgroup.com.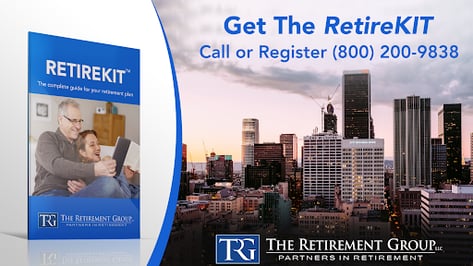 Tags: CAM Annuity, Chevron, ERB, ESRO, ExxonMobil, Financial Planning, Hewitt, In Service Withdrawal, Lump Sum, Northrop Grumman, Option 1 Withdrawal, Pension, Pension Options, Retirement, Retirement Planning, Verizon, 401K, 72t, Age Penalties, Benefit Commencement Date, Workshops, TRG