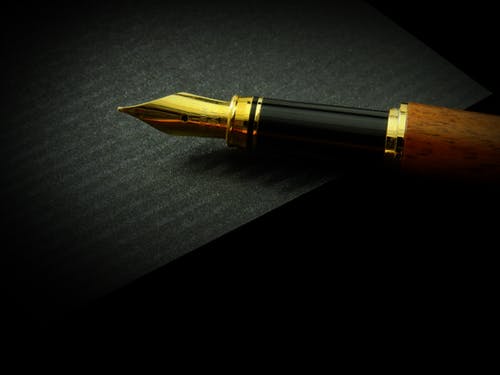 As value investors we believe in finding value in every place possible. Therefore, one of our 8-tenets, we look for funds that have a low expense ratio when compared to your peers. We believe that that a higher expense ratio does not necessarily mean higher performance, and instead reduces the return on investment. While you may assume that higher expense ratio MUST mean you're paying for better performance, but this is actually not true. In this paper we will look at a few examples that indicate funds with high expense ratios should be avoided for cheaper alternatives, if possible.
Mutual Fund managers and investors are both starting to realize expense ratios can be detrimental returns and have started to come down across all asset classes. On average, expense ratios for long-term funds have declined substantially for more than 20 years. In 1996, equity mutual fund expense ratios averaged 1.04%, falling to 0.59% in 2017. Hybrid mutual fund expense ratios averaged 0.95% in 1996, falling to 0.7% in 2017. Bond mutual fund expense ratios averaged 0.84% in 1996 compared with 0.48% in 2017.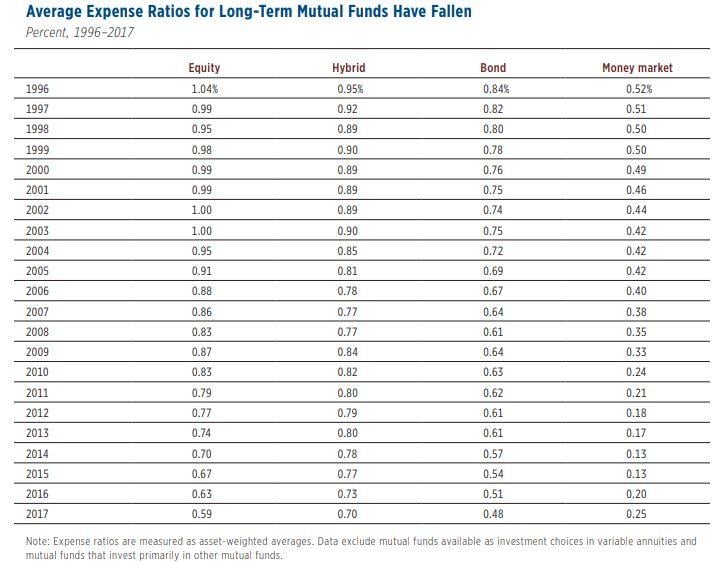 Expense ratios also vary across investment style.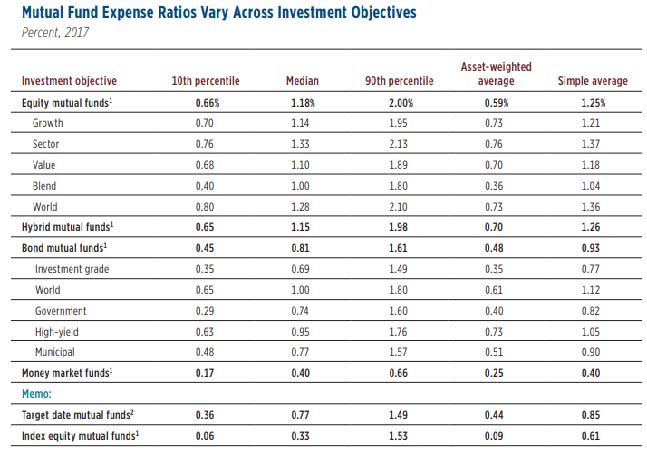 Expense Ratios Affect Returns
Expense ratios are naturally a drag on returns, but you may not realize the loss from expense ratio actual.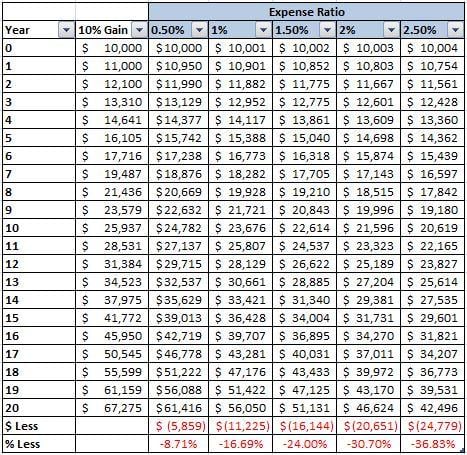 For illustrative purposes only, not indicative of any specific investment product.
The above table shows the impact that fees have on returns. It is easily apparent to see just how much expense ratios can drag on returns. If you invested $10,000 in a fund with an expense ratio 0.5% (i.e. an index fund), after 20-years you have $61,416 and paid $5,859 in expenses. If you invested in a more "sophisticated" mutual fund with an expense ratio of 2.5%, you would only have $42,496 and paid an incredible $24,779 (almost 37%) in expense fees!
A high expense ratio can really hurt your investment performance; therefore, you should consider the expense ratio carefully when investing in mutual funds.
---
The Retirement Group is not affiliated with nor endorsed by fidelity.com, netbenefits.fidelity.com, hewitt.com, resources.hewitt.com, access.att.com, ING Retirement, AT&T, Qwest, Chevron, Hughes, Northrop Grumman, Raytheon, ExxonMobil, Glaxosmithkline, Merck, Pfizer, Verizon, Bank of America, Alcatel-Lucent or by your employer. We are an independent financial advisory group that specializes in transition planning and lump sum distribution. Please call our office at 800-900-5867 if you have additional questions or need help in the retirement planning process.

The Retirement Group is a Registered Investment Advisor not affiliated with FSC Securities and may be reached at www.theretirementgroup.com.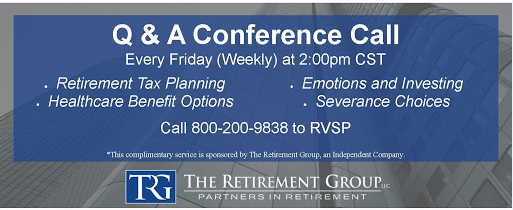 Tags: financial freedom, funds, investment, Money, profit margin, Retired, retirement planning, stock, The Retirement Group